There are several free podcast hosting platforms available.
It's important to know that companies approach "free" in different ways: some have small upload limits, some force ads, or some try to help you monetize while taking a cut.
There's nothing inherently wrong with any approach but it's good to know what to look for when choosing a free podcast host.
Some of the companies also offer paid plans, which makes it much easier to upgrade if you decide to you want to take your podcasting to the next level.
Let's take a look:
Buzzsprout
Buzzsprout has helped over 100,000 people start a podcast. They are also our #1 pick out of all podcast hosting services.
They have a free plan that many people use on a regular basis, but there are some restrictions that you'll need to be aware of:
Episodes are hosted for 90 days
You can upload 2 hours of audio every month
Ads are added to your buzzsprout.com website
What that means is that after 90 days your episode is removed. If you only need fresh content or you just want to see if podcasting is right for you, this is a great way to get started.
They make it easy to upgrade to a paid plan, which they have several tiers based on how many hours you need to upload every month: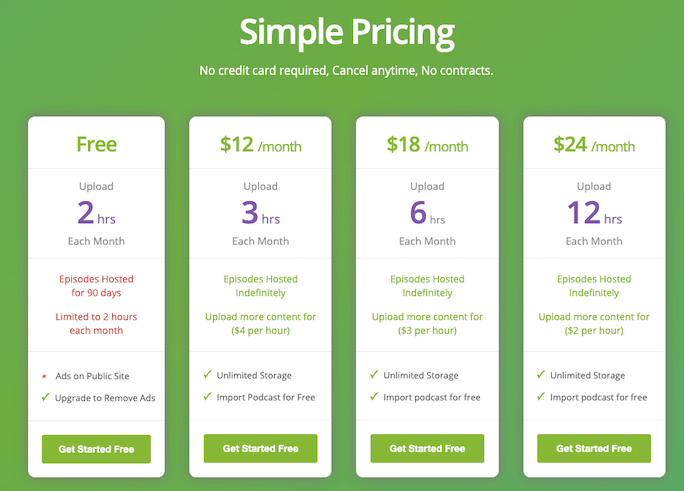 You don't need a credit card to sign up, but if you decide to upgrade to a paid plan after using our link, you'll get a $20 Amazon gift card as well!
#1 Pick
Buzzsprout
Get a free $20 Amazon gift card when you sign up for any paid hosting plan!
Podbean
Podbean is another large and well-known hosting company. They recently changed their cheap $3/month plan to a free plan.
You get 5 hours of audio upload (total, not per month) and 100GB of monthly bandwidth.
This can be a great option if you have a smaller limited-run show or you just want to experiment without paying.
You still get your own podcast website and listener stats, but they are limited compared to the paid plans.
If you want unlimited podcast hosting, you'll need to upgrade to one of their paid plans, but you can get a free month with this link.
Podbean
You can use the app for mobile recording and publishing
Spreaker
Spreaker has a similar free plan to Podbean.
You get 5 hours of audio upload and 15 minutes of live podcasting.
They have several paid plans as well that add features and audio storage as you pay more: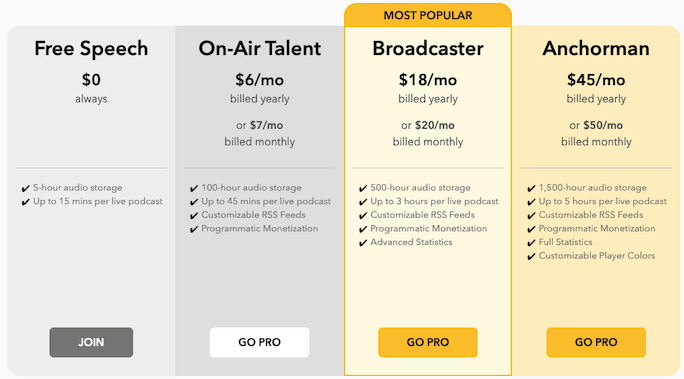 Be aware that their storage limits are not per month but total, so if you end up creating a lot of content you'll be forced to upgrade.
What makes Spreaker unique is its set of desktop and mobile apps and the ability to have live shows and a live chat.
Anchor
Anchor is a popular free unlimited podcast hosting platform and mobile app. They were acquired by Spotify in early 2019 and only seem to be growing.
Anchor makes money by helping you monetize your show with host-read ads that they help source for you.
They also automatically distribute your show to Apple Podcasts, Spotify, and other popular directories and listening apps.
The big downside with Anchor is that they use their own email address to submit your show so you won't have the ability to view your Apple Podcasts stats or submit to new directories that require an email confirmation, which is quite common.
RedCircle

RedCircle is a relatively new free podcast hosting service.
They have a built-in donation and subscription feature that lets your listeners support you. RedCircle makes money by taking a small cut similar to Patreon.

They also launched with a unique cross-promotion feature where you can commit to promoting another show, while they do the same for you. The RedCircle platform will run it until a predetermined amount of downloads are reached. This makes it a fair and easy way to grow.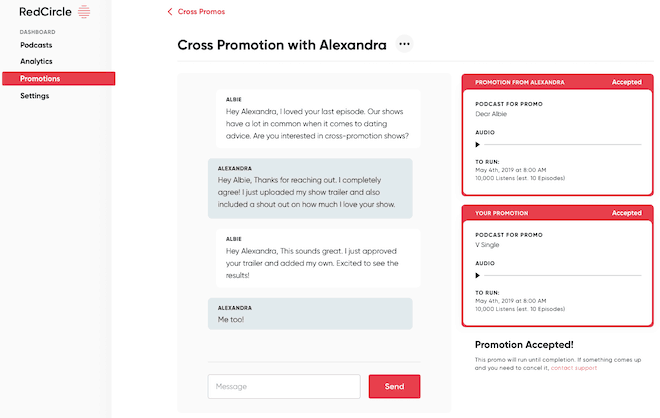 Squarespace
If you already host your website with Squarespace you can add a podcast for free.
They include a podcast-specific RSS feed and an audio player, but you'll need to carefully follow this help article to get it set up.
You also won't get proper listener analytics – all you can view is hits to the feed which isn't even close to accurate.