There are 30+ different podcast hosting companies (both free and paid) and new ones that come on the scene all the time.
Each one looks and sounds similar, offering almost the same features.
So how do you find the best podcast hosting platform in December 2023?
It can be difficult to figure out with so many people making recommendations based only on the companies they have used – essentially a popularity contest.
Or they might make recommendations based on how much they get compensated by those companies.
Plus, each host has its pros and cons – some are better suited for large brands, some for beginners, and some for people with teams working on their show.
At PodcastHosting.org we've purchased, tested, and reviewed every single podcast hosting service that is mentioned.
1. Buzzsprout – Best "Overall" Podcast Host ($12/mo)
Buzzsprout has been around a long time.
They have consistently had excellent customer service, easy to understand pricing, and a straightforward approach to podcasting.
Many other podcast hosting providers require you to learn all sorts of technical stuff in order to properly set up your podcast.
That's not the case with Buzzsprout.
They automatically handle things like ID3 tagging, audio optimization, and RSS feed setup to name a few.
They recently updated their podcast statistics in February 2020 to help you easily show if your show is growing, among a bunch of other great info.
After talking with several members of their team as well as existing customers, you can see they care and take a personalized approach to help you succeed.
Buzzsprout Pros
Ease of use
Free to start
Regular updates
Price
Statistics
Customer service
Buzzsprout Cons
#1 Pick
Buzzsprout
Get a free $20 Amazon gift card when you sign up for any paid hosting plan!

See why we rated them #1 in our Buzzsprout review
2. Captivate – Best New Podcast Host ($19/mo)

Captivate is doing some really cool stuff in the podcast hosting space.
For starters, you can start and host as many podcasts as you want under a single plan.
It's from the same team that created Podcast Websites so you know they understand podcaster's needs.
When you get into the dashboard you can tell they carefully considered every screen and feature.
For example, the excellent looking embed player automatically uses the colors in your cover art to set default player colors. Of course, you can still customize it to your liking, but these little touches make a non-designer get a website and player that looks clean and professional.
Other initial features include batch uploading, automatic distribution, and crazy-fast support.
There are a ton of monetization and growth features in the works so you know you'll continue to get new features to help your podcast grow – sweet!
Captivate Pros
Great analytics (and easy to view)
Unlimited podcasts
Unlimited team members
Features aren't limited by plan
Private podcasting on every plan
Captivate Cons
Top Pick
Captivate
Captivate is the world's only growth-oriented podcast host.
Read our full Captivate review
3. Transistor – Best Host For Multiple Podcasts ($19/mo)
Transistor has been in the podcast hosting space for a few years now.
That means they were able to look at the existing offerings and create something unique that fills a gap in the market.
One of their main selling points is that they let you host as many different podcasts under one account as you want.
The pricing is based on downloads, so you can feel free to experiment with different show formats or lengths, or even create something entirely new.
Even if you only have one show to host, they have detailed download statistics that quickly shows your progress at a glance.
You'll find some popular podcasts from companies like Basecamp, IBM, and Podia on their platform.
Transistor Pros
Analytics
Host multiple podcasts for one price
Support & customer service
Transistor Cons
New & small team (could be a pro)
4. Simplecast – Best "Innovative" Podcast Host ($15/mo)
Simplecast has been hard at work creating new and exciting features for podcasters.
They have a unique Recast feature that lets anyone share parts of your episodes with an easy-to-use dashboard.
From $15/month you will get unlimited hosting storage, plenty of bandwidth, a great looking podcast website, and useful podcast stats.
Simplecast Pros
Analytics
Unlimited storage
Multiple users and access levels
Embed Player & ReCast
Simplecast Cons
Additional features require higher plans
Simplecast
Powerful analytics & innovate sharing features. Get first 2 months 50% off with code ONSIMPLECAST
5. Podbean – Best "Cheap" Podcast Host ($9/mo)
Podbean is a popular podcast host with tons of features.
They an introductory free plan and one of the cheapest paid plans available.
For $9/month you will get unlimited hosting storage and bandwidth, your own podcast site, and advanced podcast stats.
The interface feels a bit old and confusing, but they take feedback seriously and have made updates to their embed player after we noticed it was missing a popular feature.
Podbean Pros
Price
Unlimited storage & bandwidth
Use your own domain
Podbean Cons
6. Castos – Best WordPress Podcast Host ($19/mo)
Castos is the best podcast hosting platform for WordPress.
You are able to manage everything from your WordPress dashboard, which makes podcast publishing efficient and quick.
They also own the Seriously Simple Podcasting WordPress plugin, which lets you:
generate multiple RSS feeds for separate podcasts
upload your audio files directly to Castos
embed a player
and much more!
The plugin is simple to use and configure, which can't be said for the other podcast plugins we tried (PowerPress stands out among confusing options).
They also proved to be responsive to support requests and are happy to help no matter the question.
Castos Pros
Manage from your WordPress dashboard
Unlimited storage & bandwidth
Excellent WordPress plugin (Seriously Simple Podcasting)
Castos Cons
Included website design (you shouldn't need it if you already have a WP site)
7. Podcast Websites – Best "All-In-One" Podcast Host ($77/mo)
Podcast Websites is the best "all-in-one" podcast platform.
Mark and John created Podcast Websites to "scratch their own itch" if you will.
It comes with podcast hosting, website hosting, a custom WordPress site, and easy integration into your favorite email marketing software.
It's really designed for people who are podcasting (and blogging) for business purposes.
The pricing might be out of reach for beginner podcasters, but if you plan on building a business based on podcasting Podcast Websites is an excellent starting point.
Podcast Websites Pros
Everything you need in one place
Unlimited storage & bandwidth
Amazing team
Podcast Websites Cons
8. Blubrry – Best Podcast Hosting Statistics ($12/mo)
Blubrry is one of the oldest podcast hosting platforms.
They created the popular PowerPress WordPress plugin that lets you manage your podcast from your WordPress dashboard.
They are also the "1st IAB Certified Company to be in Compliance with Podcast Measurement Guidelines" so you know your listener stats will be accurate.
Hosting plans start at $12/month for 100MB of audio storage per month and unlimited bandwidth.
They include a free WordPress site on all plans, with the option to upgrade for more features and themes.
Blubrry Pros
IAB certified statistics
Integrates with WordPress
Fair pricing
Blubrry Cons
Dashboard can be confusing
Embed player feels old
Attitude towards customers and competitors
Blubrry
Get 1 month free with this link!
9. Spreaker – Best For Live Podcasting ($6/mo)
Spreaker is one of the few platforms that offers live podcasting. Your listeners can engage through a live chat as well.
They have a full suite of desktop and mobile apps that allow you to record, edit, and publish from any device.
They do have a free plan, but for most people, it's just a way to test out the platform as you don't get that much storage and only basic stats.
You have to be on the Broadcaster plan ($20/mo) or higher to get access to advanced statics, ample live podcasting time, and a decent amount of storage.
I'm not really a fan of hosts that limit basic features like changing your embed player colors and withholding device statistics unless you are on one of the highest-tier plans.
So if you really need the live podcasting feature, they are great, but if you're just doing a normal podcast, I'd look elsewhere.
Spreaker Pros
Full-featured desktop and mobile apps
Easy to use
Spreaker Cons
Gets pricey to do lots of live recordings
Statistics are limited by plan
Embed player is limited by plan
Spreaker
Sign up with this link and get a free month on any Spreaker plan.
10. Megaphone – Best For Enterprise Podcast Hosting

Megaphone is a popular enterprise podcast hosting platform.
It's designed for publishers and podcast networks with multiple shows and more than 20,000 downloads per episode.
A lot of their features are designed around podcast monetization with things like:
Dynamic ad insertion
Geotargeting
Ad copy management
Frequency capping
And a lot more
There is a built-in ad insertion dashboard, similar to the YouTube ad insertion tool, with advanced ad targeting capabilities.
You'll find some big publishers like Vox Media, the Wall Street Journal, and CBS use Megaphone.
Podcast Hosting Comparison
| | | | | |
| --- | --- | --- | --- | --- |
| Rank | Podcast Host | Price | Bandwidth | Offer |
| 1 | Buzzsprout | $12/mo | > 20K plays | Free $20 Amazon GC |
| 2 | Captivate | $19/mo | 12K | 7-Day Trial |
| 3 | Transistor | $19/mo | 10K | 14-Day Trial |
| 4 | Simplecast | $15/mo | 20K | 50% off 2 months (ONSIMPLECAST) |
| 5 | Podbean | $14/mo | Unlimited | Free Month |
| 6 | Castos | $19/mo | Unlimited | 14-Day Trial |
| 7 | Podcast Websites | $97/mo | Unlimited | $10 off/mo (HOSTME) |
| 8 | Blubrry | $12/mo | Unlimited | Free Month |
| 9 | Spreaker | $7/mo | Unlimited | Free Month |
Other Podcast Hosting Companies We Tried
The above are our top picks after testing more than 30 different hosts.
Here is a list of a few of the other podcast hosting companies we tried:
| | |
| --- | --- |
| Podiant | Libsyn |
| OmnyStudio | Whooshkaa |
| Pippa | Archive.org |
| ShoutEngine | Anchor |
| Zencast | Pinecast |
| Cast | audioBoom |
| Squarespace | Messy.fm |
| Podcast Giant | Fireside |
| Iono.fm | Backtracks |
| WordPress.com | Ausha |

Frequently Asked Questions
What is a podcast host?
The main purpose of a podcast hosting service is to provide you with a podcast-specific RSS feed and a place to store your audio files.

You will need the RSS feed to be listed on Apple Podcasts/iTunes, Google Podcasts, Spotify, or any other podcast directory.
Why can't I use my website to host my podcast?
To start with, many website hosting companies don't allow you to host your podcast on the same server.

It's not a good idea to serve large MP3 or AAC files from your website. It won't take much to use up your server's resources and make it fail completely.

In the best-case scenario, your podcast episodes and your website will run extremely slow.
What is the best podcast hosting site?
According to our research, the best podcast hosting sites in December 2023 are:
Each has its pros and cons. You'll find more details about each company above.
How much does podcast hosting cost?
Pricing for podcast hosting typically ranges from $9/month to $50/month.
Pricing tends to vary depending on which company you go with, how many episodes you produce, and how many downloads you get.

There are services that are cheaper and more expensive, but we have found most people don't spend more than $29/month.
Is there free podcast hosting?
Yes, but we don't recommend free podcast hosting for most people.

When something is "free" that means your personal data is usually the product. Or maybe the business isn't sustainable.

No matter the reason, it's best to stay away from free hosting.
How do I publish a podcast?
The basics to publish a podcast are to record an episode, upload the audio file to a podcast hosting provider, and submit your RSS feed to Apple Podcasts.

Every time you publish a new episode, Apple Podcasts (and other podcast directories) will automatically update.
How do I upload my podcast to iTunes?
Learn how to upload a podcast to iTunes by following this step-by-step guide.
Put simply, go to https://podcastsconnect.apple.com and submit your podcast's RSS feed.

Most of the podcast hosting platforms will help walk you through this.
Does Squarespace host podcasts?
Yes, although you are limited to what statistics you can view.

Squarespace has a detailed video and support article to help you get set up.
Bonus: Best Podcast Equipment
You'll find lots of podcast gear recommendations but all you really need to get started is a USB microphone.
The best one to start with is the Audio-Technica ATR2100x-USB. It not only has a USB connection but an XLR connection for when you want to upgrade to an audio interface later.
You'll want to record with headphones, so looked for "closed-back" headphones that don't allow sound to escape and go back into your mic.
I use Audio-Technica M50X, but they make some less expensive models that are great as well.
The last thing I would highly recommend is a boom arm to make getting the mic into the proper position much easier.
The Rode PSA 1 is easy to install to a desk and gets great reviews.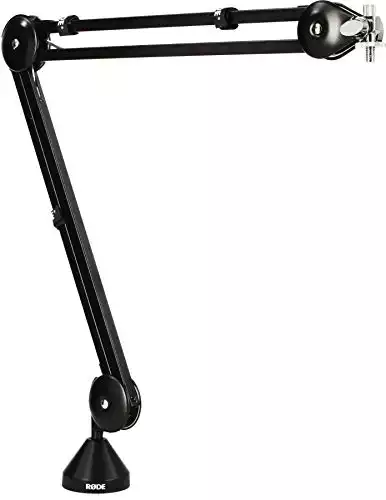 We have listed a few podcast starter kits and there is a lot more podcast equipment you can get but those are the three I would start with.
Best Website & Email Services For Your Podcast
Pair these services with your new podcast hosting provider to grow your show:
Build a website so you can give people more info, promote products and services, and make it easier to share your podcast.
Bluehost makes it really easy to host your WordPress website and get it online.
Get 63% off a Bluehost account & a free domain name here.
Bluehost
Bluehost is the easiest way to get your podcasting website online. Use this link for 63% off + a free domain name!
This website uses GeneratePress.
It's fast, easy to set up, and doesn't cost a ton.
WordPress Podcast Player: Fusebox
You don't need this, but if you want a really flexible podcast player along with a transcription tool for your WordPress site, Fusebox is the best way to go.
I recommend just getting a free domain with a Bluehost plan, but if you don't want a website Namecheap is a great place to get a domain name.
Building an email list is the best way to grow a podcast and an engaged audience.
Get a free trial of ConvertKit, the best email marketing service for podcasters and creators of all kinds!
ConvertKit
Get 2 months free when you pay for the year. This is the best email marketing for podcasters!
Webinar Software: Demio
Take a look at all of the best webinar software here.
More Podcasting Tools & Software
Remote Recording Software: Iris
Just launched – sign up here!
Podcast Rank Tracking & Review Monitoring: Chartable
See iTunes reviews from every country, tracking rankings in Apple Podcasts, create SmartLinks, and more!
Oh, and it's free.
Transcription: Scribie
Buzzsprout has built-in automated transcription, but if you want high-accuracy manual transcriptions, Scribie makes it really easy.
Check out this post on royalty-free podcast music for your podcast music and sound effects needs.
Edited by Ross Winn
Podcast Hosting Tester
We've tested over 30 different podcast hosting companies over 3 years to find the best choice for your podcast and budget.