Private podcasting is a great way to share company-wide messages, do corporate training, give supporters access to exclusive podcast feeds, or offer people in your community a secure way to get special audio content.
Not every podcast hosting company offers the ability to create a private feed, but there are several that do…
Here are the best private podcast hosting platforms to choose from:
Captivate
Captivate is the best platform for private podcasting (and a top 3 choice for public podcasting too).
Every plan gets access to their new private podcasting feature. And because you can create any number of shows on any plan, this makes it easy to implement or test out.
The limits on private subscribers are:
$19 plan: 1 private feed with 150 private subscribers
$49 plan: 1 private feed with 500 private subscribers
$99 plan: 3 private feeds with 1,000 private subscribers
Top Pick
Captivate
Captivate is the world's only growth-oriented podcast host.
Transistor
Transistor is another excellent platform for private podcasting and one of our top recommendations overall.
Because you can host multiple shows under one account (for no additional cost) it's easy to have both public and private shows.
It's as simple as clicking a checkbox: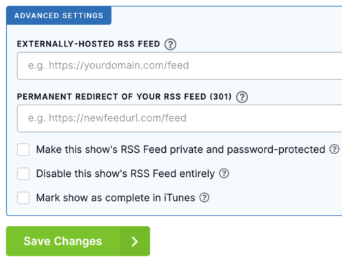 You'll then get a private feed you can share with your employees or community.
Here's a short video walking you through the process of creating a private show and subscribing in various podcast apps:
Podbean
Podbean is another host that has the ability to create private podcasts.
They are geared toward the enterprise with features like Single Sign-On (SSO), group and user management, multiple channels and admins, episode completion rates, and more.
Many large companies already use them because of their security and feature-set.
Pricing starts at $99/month, but you can also get in touch for a custom solution:

Spreaker
Spreaker has a "limited access" feature that disables the RSS feed and provides a special link that you can share.
While this works, it doesn't give listeners the ability to use their preferred podcast app.
You also need to be on the Broadcaster plan or above.
Storyboard
Storyboard is a platform and app that is dedicated to private podcasting.
They have two tiers: Free and Enterprise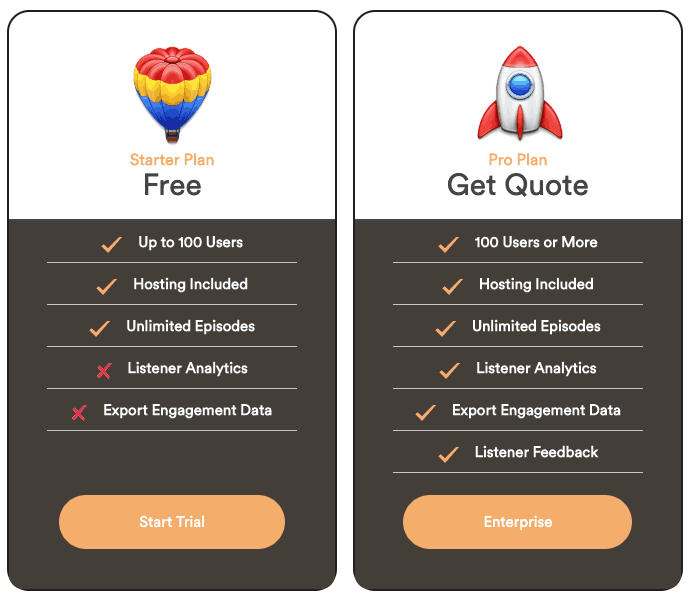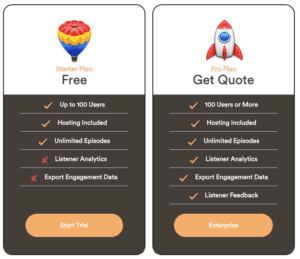 On the free plan, you can start a private podcast for up to 100 listeners.
On the pro plan, you can customize the branding, view stats, and get feedback.
They have both email and SSO access options, where people can then listen on the web or through their iOS and Android apps.
uStudio
uStudio has a full brandable private podcasting solution.
They offer a desktop app, mobile apps, SSO, analytics, and live streaming.
Patreon
Patreon has a private RSS feed people can access once they become patrons by paying to support you.
You can also choose whether to automatically notify new patrons with a one-time email plus you can customize your RSS feed title and artwork.
Supporting Cast
Supporting Cast is focused on providing podcasts through paid memberships.
They handle "payments, private feed delivery, security, analytics, and customer support."
Final Thoughts
Internal podcast hosting (for corporations) is quickly becoming a popular way to easily share a message with your employees and shareholders.
They can listen on their own time, avoiding the challenge of getting a large group of people to meet at the same time.
You can even view stats to see how many people have listened to your episodes.