Captivate is doing some really cool things in the podcasting space.
They are one of the newer podcast hosting providers, but the team behind them has been in the podcasting space for a long time.
They are focused on helping you grow your podcast and want your show to succeed.
Top Pick
Captivate
Captivate is the world's only growth-oriented podcast host.
We'll start by taking a look at some of the best features:
Captivate Features
New Show
When creating a new show you'll go through a series of 8 steps to make sure all the info that is required by Apple, Spotify, and other directories is included.
Captivate includes helpful tips along the way to make sure you do everything correctly and to make things easy.
Note that some steps can be skipped and/or completed later.
Step 1: Show Title & Subtitle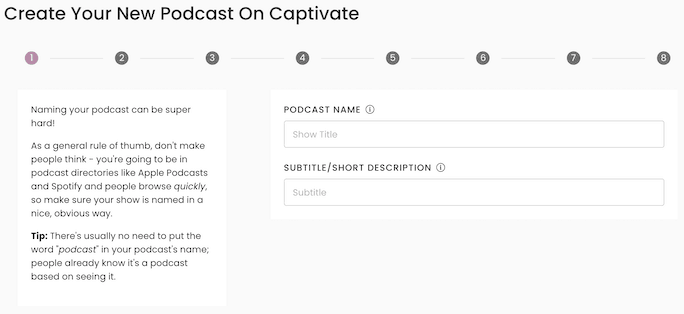 Step 2: Podcast Cover Art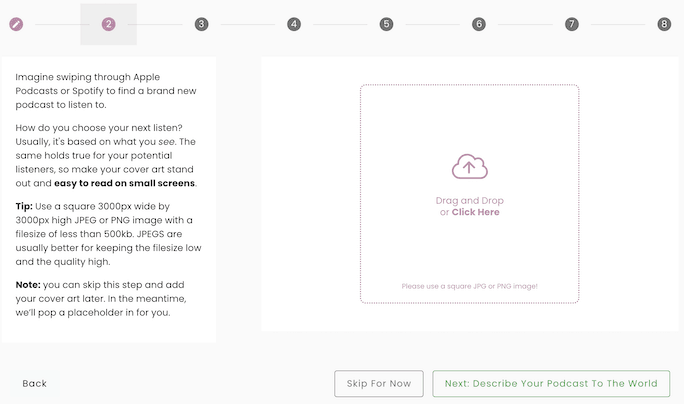 Step 3: Show Description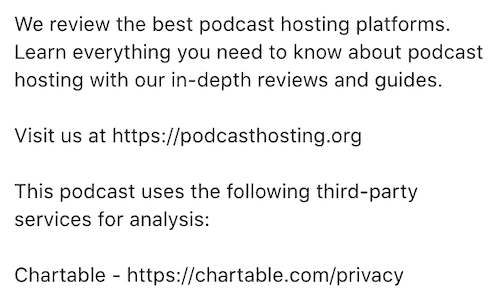 This is where you enter your longer show description.
Step 4: Podcast Categories

Step 5: Miscellaneous Settings

You get plenty of options to customize your podcast including default publishing time and episode order.
Step 6: Donation Link
A donation link is optional. You'll usually see this in podcast apps as a 'Support This Show' link.
Step 7: Author Name & Email
This could be your name or a brand name. You'll want to use an active email address to get communication from podcast directories or to confirm you're the owner.
Step 8: RSS Feed Info
A nice touch is that you can customize your RSS feed URL.
Show Settings
Here you can customize all the info you entered in the new show setup. Plus, there are a couple of other settings such as adding third-party prefixes like Chartable or Podtrac.
Publishing Episodes
Captivate supports publishing episodes with a couple of different workflows.
The main way is to upload your audio file -> enter episode metadata like title and show notes. You can also skip audio upload and effectively reverse this process.
Another way is to batch upload audio files into your Library so that when you create a new episode, you'll simply select the corresponding audio file.
Other nice touches include automatically incrementing episode numbers and the ability to customize your episode title on Apple Podcasts.
Analytics
You get IAB compliant download statistics in a number of different views and graphs.
You can see downloads over time, device stats & app stats, location info, and more.
There is also a nice display of download averages for several time periods to get quick overview of how things are performing: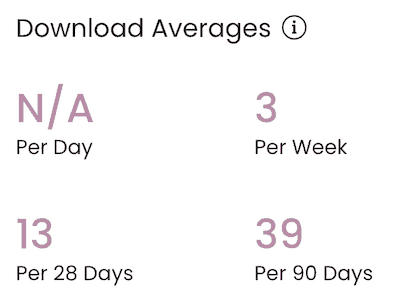 Embed Player
You get single episode and show embed players (we use both of them on this site) that can be customized to match your brand.
For the single episode player, you can embed specific episodes or use a player that always shows the latest episode.
I really like that you can change how prominent the Captivate logo is on the player:

You can see an example of the show player on our podcast page.
Distribution
As you would expect from a podcast hosting platform, they help you get into all the top directories: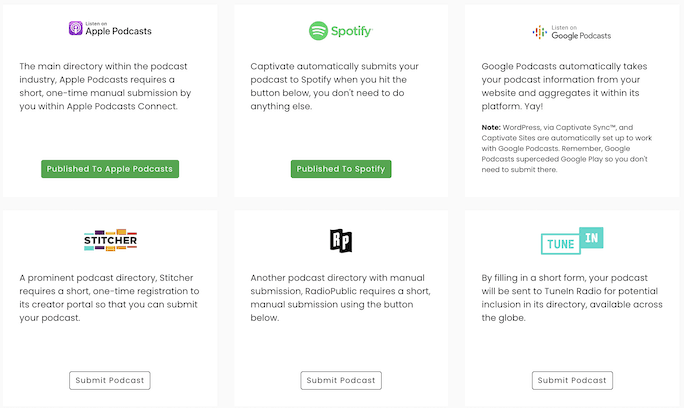 Website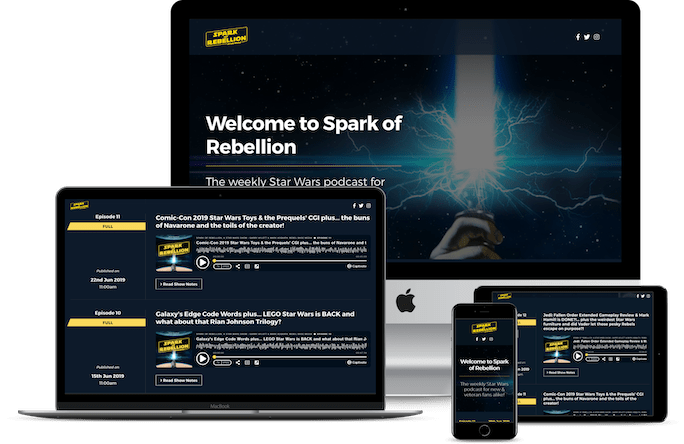 Captivate is one of the few hosts that offers a WordPress plugin (Captivate Sync) that automatically publishes episodes to your WordPress website.
You can even publish episodes from your WordPress dashboard and they will sync to your Captivate dashboard. Very cool!
If you don't have your own WordPress site, that's OK. They include a great-looking mobile-friendly site for every podcast. The image above is an example of one of their automatically created sites.
Other little touches like automatically selecting colors based on your podcast artwork and the ability to add Google Analytics or Facebook pixels are well-thought-out and very much appreciated for those without a separate website.
Here's our built-in Captivate site.
Marketing
Another area where Captivate stands out with unique features not found in other podcasting platforms is in the Marketing section.
First is the Single Subscription Link (here's ours) that gives you a single link to share with buttons to help people subscribe on their favorite app:

Next is the Calls to Action feature where you can add a link anywhere you want that shows up on your embed player: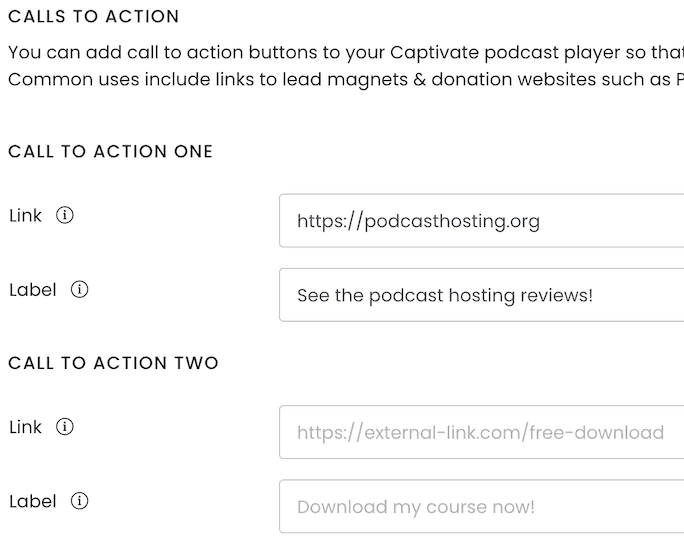 Lastly is the Sponsor Kit, one of Captivate's latest features. You just enter your audience avatar and it automatically creates a PDF with your latest episodes, download stats, social media, and contact info.
This makes it extremely easy to share key info with potential sponsors and make you some money!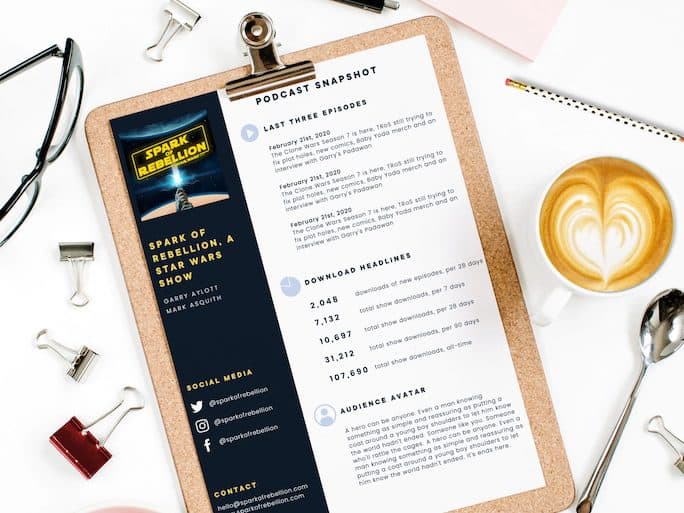 Team
You can add an unlimited amount of team members and there are multiple team options if you need them.
You simply enter a name and email address and Captivate will send an email to your team member with activation instructions.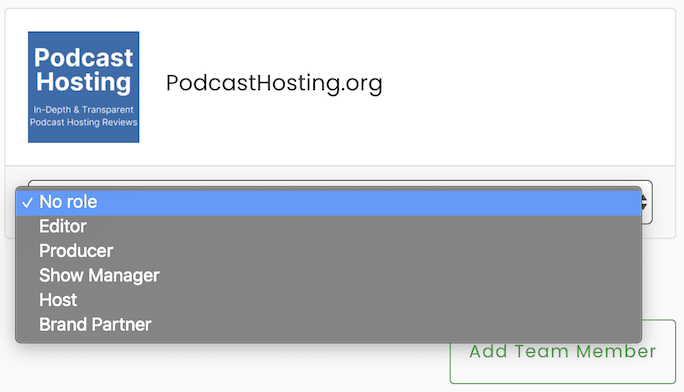 You can choose to add someone to a single podcast – or all of them – and depending on the access level you choose, they will have a limited ability to edit and change settings depending on what that role entails: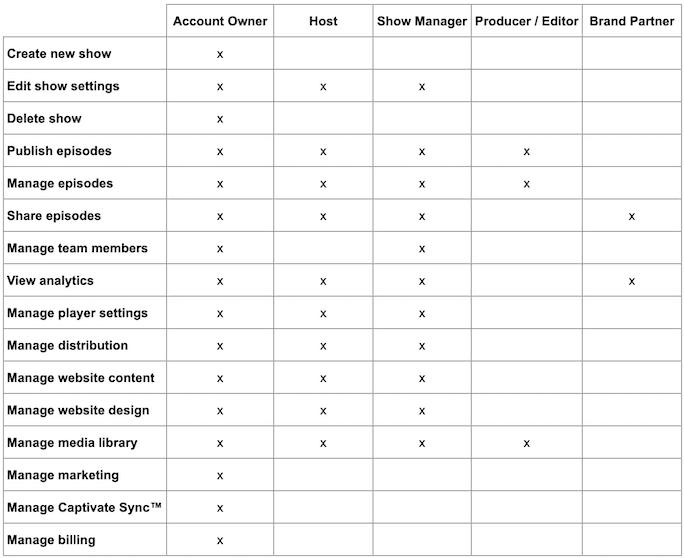 All your team member info automatically gets sent to Podchaser, the "IMDB of podcasts" to help increase exposure.
Captivate Pricing
On every plan, you can host unlimited podcasts and get access to all features. They don't limit core features by price.
Hosting plans start at $19/month for 12,000 downloads per month.
They also have a $49/month plan with 60,000 downloads and a $99/month option with 150,000 downloads.

Captivate Pros
Marketing tools
Host multiple podcasts for one price
Excellent embed player
Unlimited audio storage
Multiple publishing workflows
Captivate Cons
Individual episode analytics
🤷‍♂️
Do we recommend Captivate?
Of course! In fact, our PodcastHosting.org podcast is currently hosted with Captivate.
Top Pick
Captivate
Captivate is the world's only growth-oriented podcast host.
Captivate FAQs
What is Captivate?
Captivate is the podcast hosting platform from Rebel Base Media.
The parent company also runs Podcast Websites, Poductivity, and Podcast Success Academy.
How Much Is Captivate?
Captivate has 3 pricing tiers:
$19/month with 12,000 downloads/month
$49/month with 60,000 downloads/month
$99/month with 150,000 downloads/month
You can try it out for 7 days free here.
Does Captivate Work With WordPress?
Yes! They built a WordPress plugin called Captivate Sync that, well, keeps everything in sync.